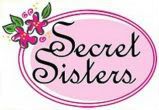 Firstly welcome to my new follower, Cheryl.
I went to the bootsale and all we bought were six raffle tickets and won two small cakes - was very disappointing but I didn't mind because just before we left my Secret Sister Package arrived.
I unwrapped it and found a box:
But what is inside?
It is well wrapped but what is inside?
Pretty paper - what is inside?
All this - I am so pleased with my parcel - here is a closer look:
Lovely bubble bath which smells amazing and some hand cream one of my favs!
Toffee and Fudge what a treat!!
A nice jasmine candle in a jar mmmmm smells lovely!
This book has been on my wish list for ages - thank you!
Now when I saw this I could not believe it a lovely sparkling butterfly brooch - so lovely I keep looking at it. I collect brooches and wear some of them and this is definately going to be worn.
I love this magazine but rarelt treat myself to it, it has some great recipes in it.
I found a use for the box already:
Finally, I would like to say a big thank you to Confession of a Shopaholic and of course for Carla for organising Secret Sisters XX